KeeptheHeat™
Air-to-Air Heat Exchanger
Searching for a solution to reduce poor quality air in your working environment? The KeeptheHeat™ Air to Air Heat exchanger is a simple yet extremely effective product that can improve the quality of a buildings air while reducing heating costs.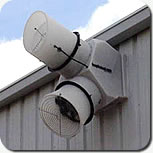 This system is designed for industrial and commercial facilities the require fresh air ventilation in a highly energy efficient and cost effective manner. KeeptheHeat™ provides fresh air ventilation and exhausts any airborne contaminants present inside of these facilities.
Read more about the KeeptheHeat™ Air-to-Air Heat Exchanger.
"A Simple Solution to a Serious Problem"
AirCorrect Inc. announces expansion of product line to serve the Natural Gas and Co-generation Industry of Ontario Read more
Compressor / Pump Filters
& Accessories
AirCorrect can satisfy your compressor and vacuum pump repair needs by offering a wide variety of rebuild parts for many of the leading OEM's. We will only supply "Genuine Equivalent" replacement parts that are of the highest quality and either meet or exceed the specifications of the original equipment manufacturer.
Working with you, our customer, we will assist in ensuring that you have a clean reliable source of compressed air internal to the productivity and profitability of your company.
Read more about our spare parts for Vacuum Parts and Reciprocating & Screw Compressors.